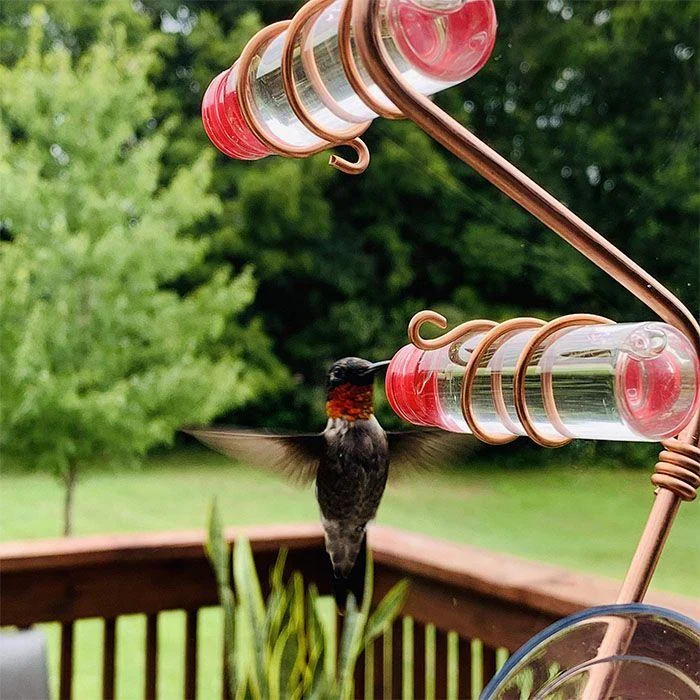 STICKS DIRECTLY TO YOUR WINDOW - The unique suction-cup design allows you to watch hummers up close from right behind your window!
EASY-FILL/EASY CLEAN GLASS BOTTLES - No more wasting your nectar, or cleaning a bulky feeder, with our easy-fill/easy-clean bottles; simply twist and pull to remove and refill our solid glass bottles; store extra bottles in your refrigerator for an easy swap!
TRENDY DESIGN - Feed your hummingbirds in style, with our modern, minimal, and geometric design!
CREATE YOUR OWN GRID - Combine multiple Feeders, to feed more hummers and create your own trendy grid!
Specifications:
Material: Metal + Plastic
Options: 2 Bottles Set, 3 Bottles Set, 4 Bottles Set, 5 Bottles Set
Net Weight: 70g (2 Bottles), 60g (3 Bottles), 70g (4 Bottles), 90g (5 Bottles)
Dimensions: 9.5*3*3.5'' (2 Bottles), 9.5*3*3.5'' (3 Bottles), 9.5*3.2*3.5'' (4 Bottles), 9.5*3.3*3.5'' (5 Bottles)
Package Size: 14*2.2*2.2''
Package Includes: 1x Window Hummingbird Feeder